Zen-Star Rubber pulley lagging sheets are essential components used in the mining industry for wet and dry application and can be universally applied as a lagging for drive pulleys for low to high-loaded conveyor belts, to enhance the performance and lifespan of conveyor pulleys.
Zen-Star Rubber pulley lagging sheets are made from high-quality rubber with a patterned surface to improve traction and grip. The primary purpose of rubber pulley lagging is to increase the friction between the conveyor belt and the pulley, reducing belt slippage and preventing material spillage.
Zen-Star Rubber pulley lagging sheets are custom-engineered rubber sheets crafted to optimize the functionality of conveyor pulleys across diverse industrial applications. Their unique formulation enables them to withstand a variety of conditions like general purpose, oil, food grade, fire etc.
Properties
Rubber pulley lagging sheets are known for their excellent wear resistance, providing a protective layer that extends the pulley's life. They offer high tensile strength, tear resistance, and can withstand harsh mining conditions. The patterned surface enhances friction and prevents the conveyor belt from slipping, even under heavy loads. Applications: Rubber pulley lagging sheets are applied to the surface of conveyor pulleys in mining operations. They are particularly useful in situations where the conveyor system experiences belt slippage, which can lead to reduced productivity and increased maintenance costs. By providing better traction and grip, rubber pulley lagging sheets ensure smoother conveyor operation, efficient material handling, and improved overall conveyor performance in mining applications.
Product Dimension
Technical Diaphragm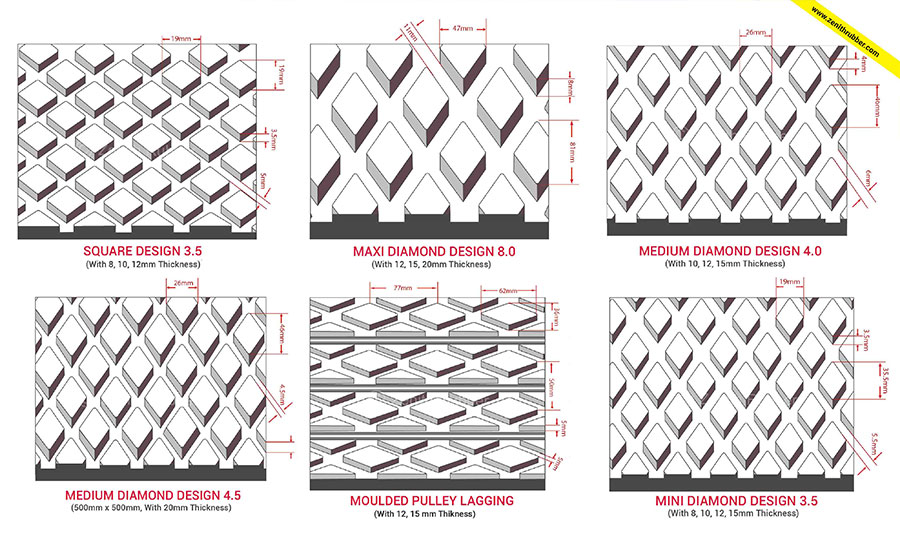 Note
Custom width and length is available on request
Custom colours available on request